Introduction
This is a project on the analyses of Movies in 2021. I wanted to look at what made movies this year so special. After everything that has gone through in our lives in the past year, movies were a great way to relax and start enjoying ourselves. 2021 was a special year for movies, especially because this was when theaters began to open back up, and people wanted to get out of the house and start watching movies with popcorn in their hands. I thought it would be interesting to see what movies compelled people to come out and see cinematic pieces on the big screen.
Background
The COVID-19 virus hit the population hard. It quarantined us for about one and a half years. People stayed at home watching movies on streaming services. Once August of 2021 hit, things started going slowly back to normal. Movies played a massive part in bringing people out of their homes and wanting to go to the theaters. It would be nice to see what made these movies successful.
Factors
In 2021 especially, I believe that there are factors that have made some certain movies do really well in the past year. I think that these factors are might have a contribution in what made these movies successful.
The Distribution Company: I think this may be because of marketing and how well they could sell their movies to the public to come out of their comfort zone and watch during such trying times.

Genre: I think the genre of a film can entice an audience to watch a movie. If there is a big following for a type of movie, then people will come and watch it.

Release Date: In 2021, this one factor maybe very important. Because COVID was still a great issue at the beginning of 2021, people were not as likely to go out and watch a movie.

Confounding things that I found while determining if a movie is successful or not.
Data
I found data about each movie's gross dollar amount, release date, and other details about movies in 2021. I thought this data set would be interesting to look at to dissect which movies were the greatest films of this year. I also found another data set about the genre of movies that came out in 2021. This was a little less detailed, and there were data sets in data sets, so I chose the most basic one to display my point.
TOP 10
Top 10 Movies of 2021
Rank
Title
Gross Dollar Amount
Release Date
Distribution Company
1
Spider-Man: No Way Home
804793477
Dec 17
Sony Pictures Entertainment (SPE)
2
Shang-Chi and the Legend of the Ten Rings
224543292
Sep 3
Walt Disney Studios Motion Pictures
3
Venom: Let There Be Carnage
213550366
Oct 1
Sony Pictures Entertainment (SPE)
4
Black Widow
183651655
Jul 9
Walt Disney Studios Motion Pictures
5
F9: The Fast Saga
173005945
Jun 25
Universal Pictures
6
Eternals
164870234
Nov 5
Walt Disney Studios Motion Pictures
7
Sing 2
162790990
Dec 22
Universal Pictures
8
No Time to Die
160891007
Oct 8
Metro-Goldwyn-Mayer (MGM)
9
A Quiet Place Part II
160072261
May 28
Paramount Pictures
10
Ghostbusters: Afterlife
129360575
Nov 19
Sony Pictures Entertainment (SPE)
Source: IMDb.com and Box Office Mojo
This table shows the top 10 highest-grossing movies in the year 2021.
A few things to note: - No Way Home made about 4 times more than Shang-Chi
All of these movies were made in the latter half of 2021

The Distribution companies are well-known companies

Movies 1, 2, 3, 4, and 6 are part of the Marvel Cinematic Universe or somehow associated with Marvel.

Although not listed here, Movies 1 to 6 and 8 are listed as Action.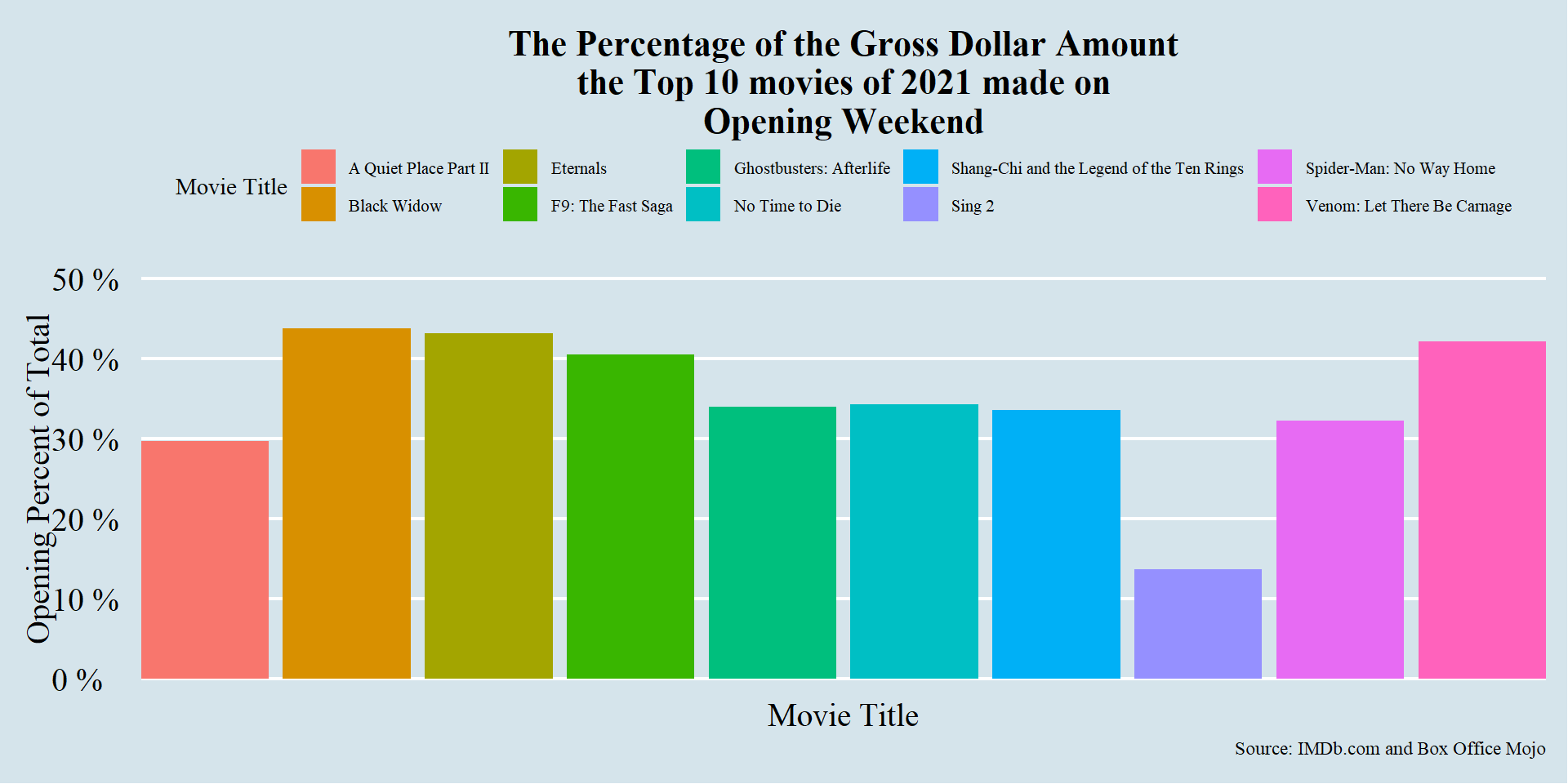 I added this graph as food for thought. It shows the percent of the total gross amount earned on opening day. The graph that has the lowest percentage means that it had more money made in subsequent weeks. I thought this was interesting and added it in just so it is here.
Factor 1: Distribution Company
Number of Movies the Top 10 Movies' Distribution Companies Made that ended up in the Top 10 of 2021
Distribution Company
Count
Metro-Goldwyn-Mayer (MGM)
1
Paramount Pictures
1
Sony Pictures Entertainment (SPE)
3
Universal Pictures
2
Walt Disney Studios Motion Pictures
3
Source: IMDb.com and Box Office Mojo
This is the table with all of the distribution companies in the Top 10 Movies for 2021, and the number of movies they made in the top 10.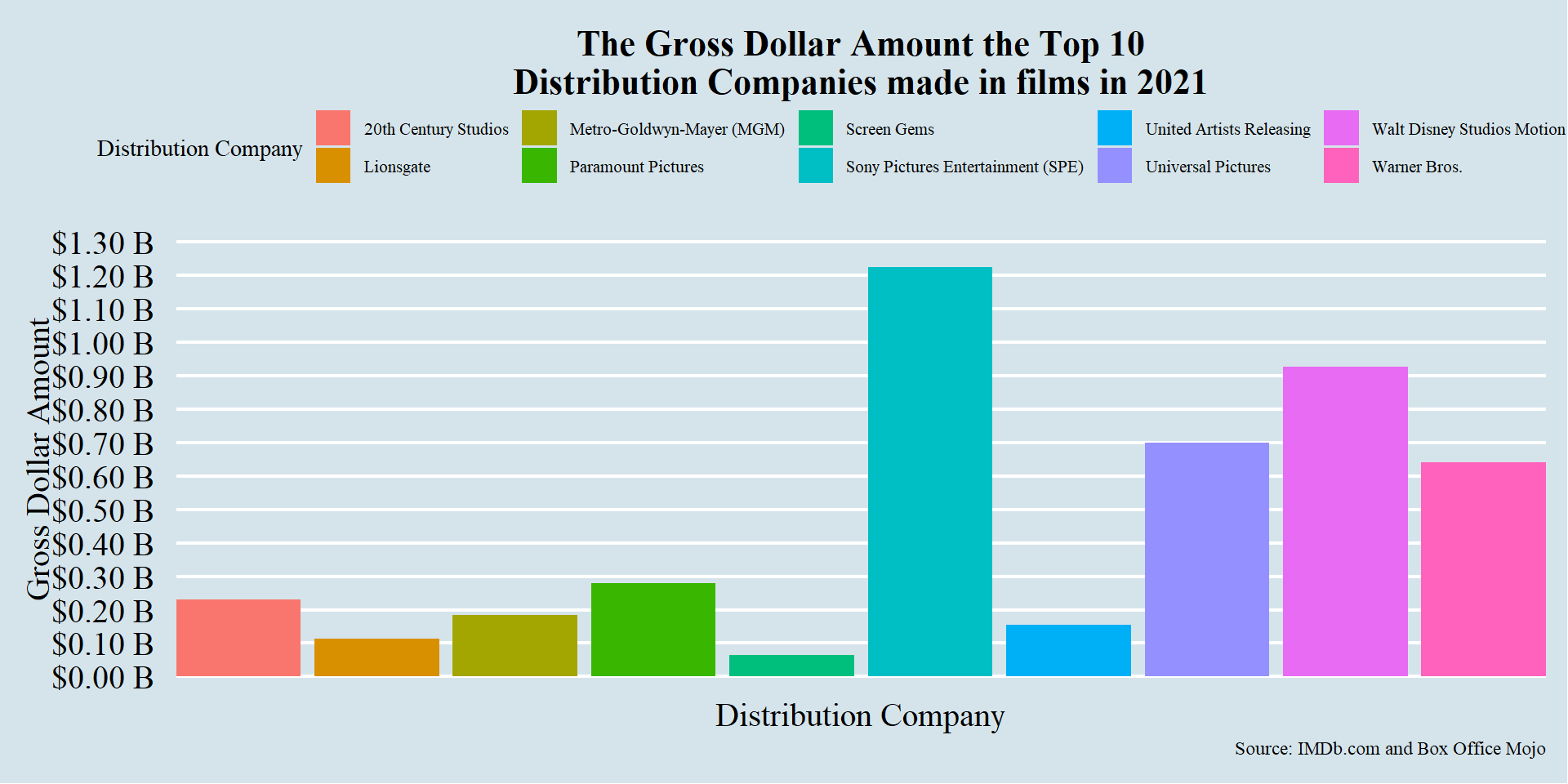 This is a graph of the gross amount of money that the top 10 distribution companies made.
Analysis:
In 2021, Sony was the Distributor that made the most money-making movies. They made 3 movies this year that ended up in the top 10, and they made the highest gross amount. Does this mean that if someone wants a successful movie, they should go with Sony? No, that is causation. Is there a correlation? Not really. They had a really good year with one of the biggest films of the year. Spider-Man was heavily anticipated, bringing people out to the theaters in crowds. Strategically it was also released at the end of the year, meaning it was when people were more comfortable going to the theaters. So does the distributor have an impact on if the movie will be successful? I don't think so.
Issues Spider-Man was a very anticipated movie. People watched it over and over again, and people talked about for a long time after it released. It was a reunion and nostalgic film- a great success for Sony. Sony doesn't have this type of success every year which makes this somewhat biased. That is not to say that Sony isn't a good distributor, but this was an outlier.
Factor 2: Genre
Number of Movies in 2021 According to Genre
Rank
Genre
Count
1
Action
45
2
Adventure
27
3
Horror
49
4
Comedy
59
5
Drama
120
6
Thriller/Suspense
40
7
Musical
4
8
Documentary
48
9
Concert/Performance
3
10
Western
4
11
Black Comedy
1
12
Romantic Comedy
7
13
Multiple Genres
2
Source: Nash Information Services
This table shows how many movies in 2021 were made according to the genre.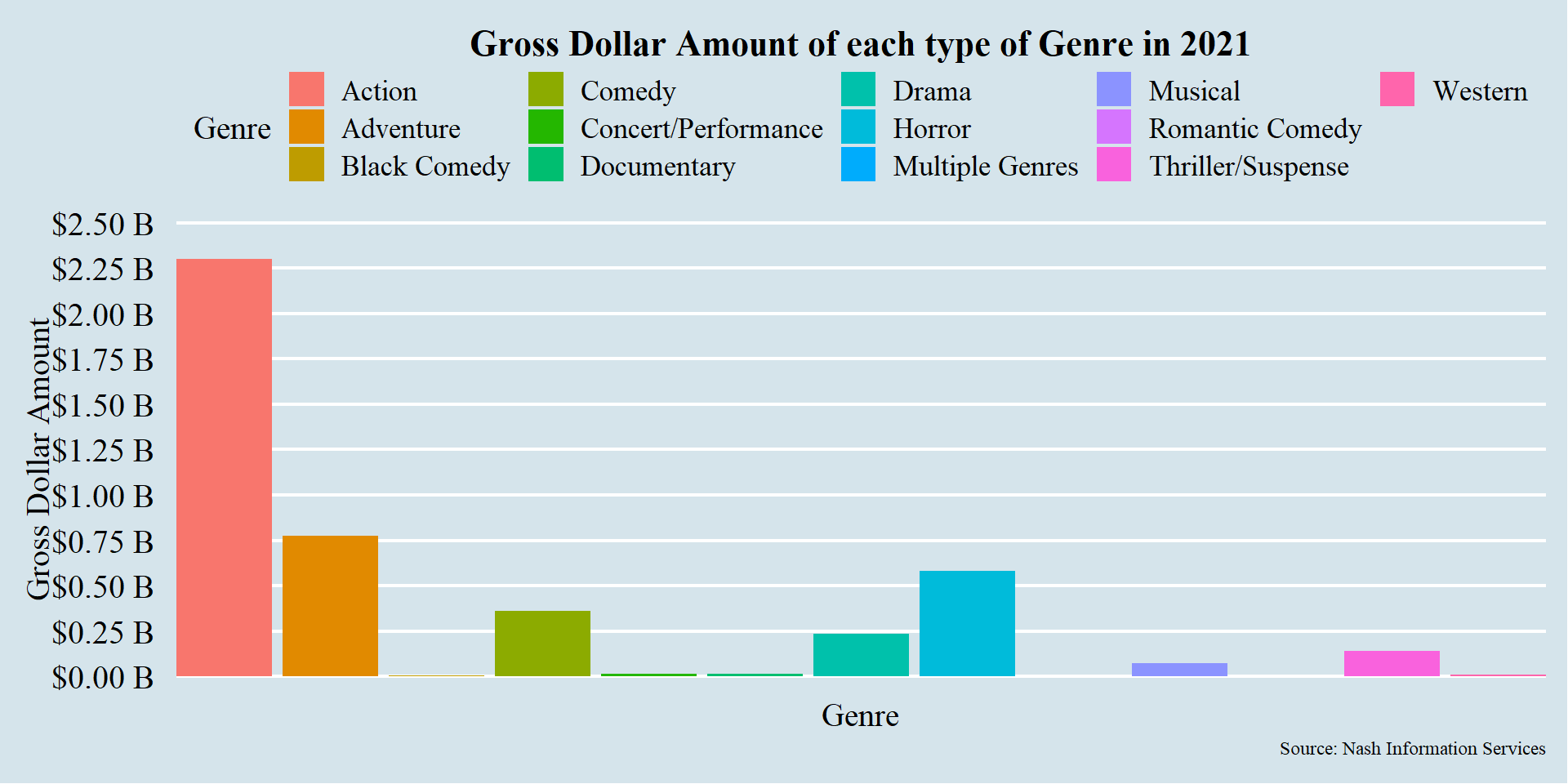 This is a graph about the gross amount of money each genre made. This graph shows the action genre made. Clearly, it shows that action movies were very desirable in 2021 beacause it made the most money.
Analysis
As we said earlier, 7 of the 10 movies in the top 10 were Action movies. There were a lot of action movies this year compared to other genres. This was a popular year for action movies. After a long year of COVID, people were primarily drawn to Action and Adventure. It looks like with the Top 10 Movies and with the most grossing genre, people like Action movies. Does that mean that Action movies are most likely to be successful? No, correlation doesn't equal causation. But it is possible.
Factor 3: Release Date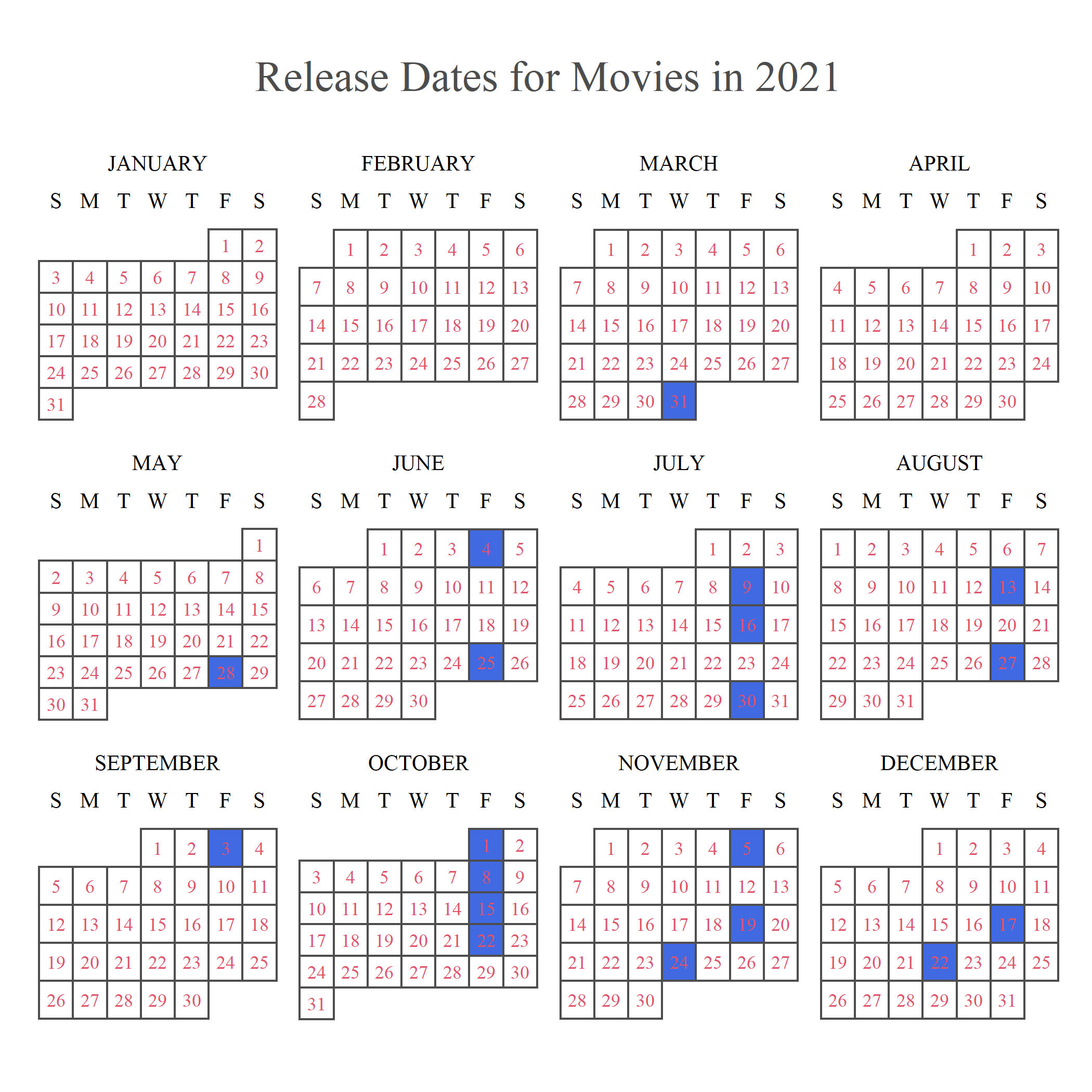 What can we take away from this?
We can see the blue concentration at the year's end. This shows that to have a successful movie in 2021, it is best if it was released in the latter part of the year.
Conclusion
Of all the factors I have listed, the most influential ones were the Release Dates and the Genre of the movies. They were significantly able to determine if a movie was able to be successful. Though Correlation doesn't equal Causation, it still can see if a movie is good or not. Sure factors such as plot and acting quality matter when coming to a good movie so we can't rely on these three factors.
Issues
This was a really good year for Marvel Movies. They released 4 movies for their universe and had a Venom movie too. A successful franchise with many fans, theaters were packed for these movies. James Bond and the Fast and Furious Franchises also have grand followings, so these movies will be successful too. Factors like popularity also play a role, so we can't say that all Action movies will do good in this type of year. This is some food for thought for a COVID ridden year.
Another thing was the No Way Home became very popular because of a leak. It showed that past Spider-Man actor Andrew Garfield was likely to be in the movie. This created lots of nostalgia for older audiences and made people come to the theaters to watch their favorite superheroes.
There are other factors that need to come into play such as the plot or the acting quality when it determining whether a movie was good or not too.